Date and Road to the Pro Tour
With over 400 events taking place across the world from October 21st to November 5th, utilizing Classic Constructed and Bright Lights Booster Draft modes, Pro Quest paves the way for the next Flesh and Blood Pro Tour.
In addition to being an excellent way to earn XP and climb the leaderboards, Pro Quest will guarantee an invitation to the winner of each event to the next Flesh and Blood Pro Tour. Despite being a competitive event, Pro Quest allows new and veteran players to get to know each other, creating bonds and new friendships, learning and growing together as they prepare for the next stage of the Flesh and Blood Organized Play journey.
Living Legend points have been increased this season, increasing by 4 for each event victory. After the completion of Pro Quest on November 6th, a verification will be carried out and any hero that has surpassed the 1000 points mark will be retired from the official game.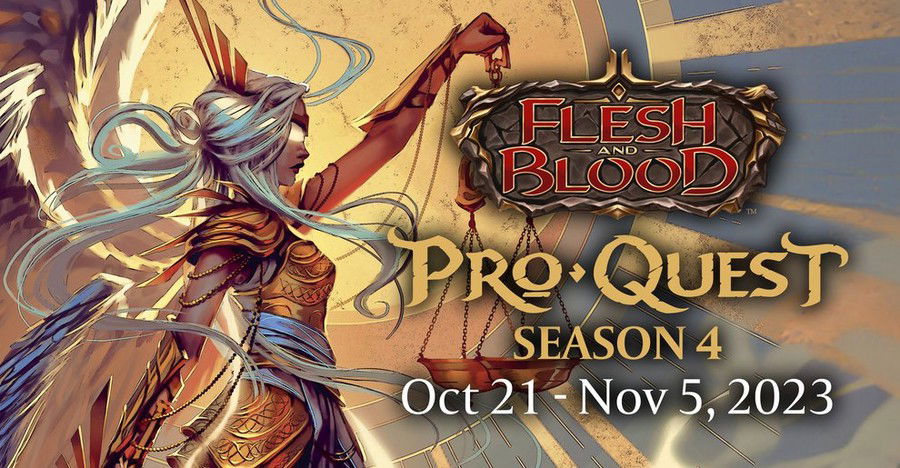 Awards
The prizes that will be given to the stores where the events took place were also revealed. Participants will be competing to:
1x Pro Tour Invitation - Awarded to the event winner (or finalist if the winner has already qualified)
1x Random Drop Gold Foil Card (Common, Rare, or Majestic) - Awarded to the event winner
8x Cold Foil Hero Cards - Awarded randomly amongst the Top 8 players at the end of swiss
2x Alluring Inducement Playmats - Awarded to the event winner and finalist
1x Judge Pack - Awarded to the head judge when the event has finished
1x Judge Sleeves - Awarded to the floor judge when the event has finished

The organization of the event encourages and supports the good conduct of its players and participants, reiterating that it is always possible for errors to occur amongst players, even those at the highest level, errors on the part of the organization or judges, and therefore, everything must be resolved in a respectful and civil manner, online or in person.
Finishing
Comment what you think of the Pro Quest awards and send this news to your friends who play to check their opinion! And don't forget to check out our September 19th List of Banned and Restricted Impact Analysis
!