Introduction
Just like every game, Flesh and Blood has a set of sealed goods where you go to a store and buy them. There is also much discussion about each of these products and whether they are good purchases or not.
Despite not having a wide range of options, today we are going to talk about these products that the game has and which ones are worth it for which audience.
Ira Welcome Deck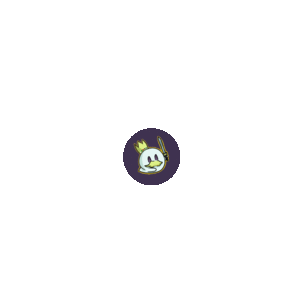 The Ira Welcome Deck is a deck that is not legal for any game format (composed of 30 cards with 3 copies of each). It has no equipment (only the Edge of Autumn weapon) and stars Ira, Crimson Haze. Although not legal in constructed games, it has great ninja cards for a blitz deck like her specialization, Whirling Mist Blossom, Salt the Wound and Scar for a Scar.
Fortunately, this deck is distributed free of charge by the storekeeper in events aimed at beginners or however they want to distribute it, so if you wish to know the game, have the first contact and understand the basic rules, I recommend that, if possible, participate in these events!
Blitz Preconstructed Deck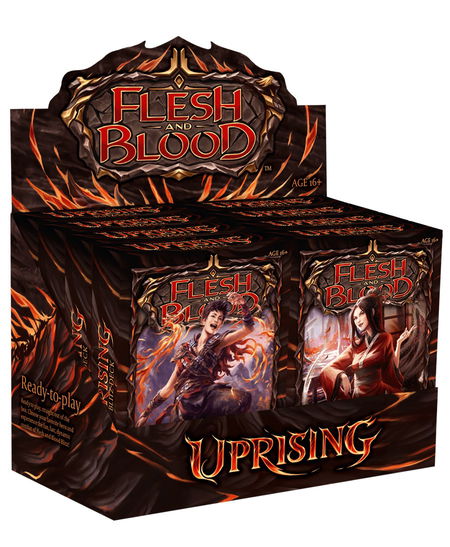 In my opinion, blitz precons are the best sealed product to buy regardless of audience, but it's a perfect product especially for newbies or anyone wanting to play a different hero.
The preconstructed decks are usually released in Draftable collections with the heroes of these sets (but this is not a rule) and are composed by the hero in its Young version (some of them being foil), four equipments, a set of weapons and / or equipment off-hand, and forty cards composing the deck itself.
There's a lot of discussion about how well or poorly built these decks are, however due to its cost and the great way of presenting the hero's mechanics, it ends up compensating for itself and being worth it.
Practically, all heroes that aren't Majestic or Legendary have a precon, allowing the range of options for those who want to start in the game with a hero in mind. It is important to note that the composition of these decks are basically common and rare (some have a majestic), so I don't advise buying them for anyone who intends to take some financial value from the cards.
Most doubts about Precons
Although simple, with each set, some change occurs in the precons, so let's clarify some doubts:
Are all heroes Foils?
No. Due to the policy and planning for the distribution of some cards with special treatments, not all precons have Foil heroes.
The precons that have the hero in their Young Foil version are: Prism, Boltyn, Levia, Chane, Oldhim, Lexi, Briar, Fai and Dromai. In addition, these mentioned heroes also have an extended card from their adult version.
Which is the best precon deck?
There is no better or worse. It's more interesting to pick up a hero that you like the most and are interested in continuing with it and making improvements. So, get to know how each hero plays to know which one to pick.
Why is there a Viserai precon deck?
Viserai has already achieved Living Legend status in the Blitz format, and the release of its precon has raised many questions in the community regarding its existence.
Why release a deck that isn't legal in sanctioned games? Whatever the answer, it's still an option if you want to build it in its Classic Constructed version, but since it's more geared towards casual environments, without competitive pretensions, it's still a suitable option.
Can I buy a precon and play tournament straight out of the box?
Yes, and it was made for the Blitz format and widely supported in the community to start the format, but with some caveats.
Some decks have cards banned in the Blitz format, so consult the banlist and change the banned card for any other.
Classic Battles: Rhinar vs Dorinthea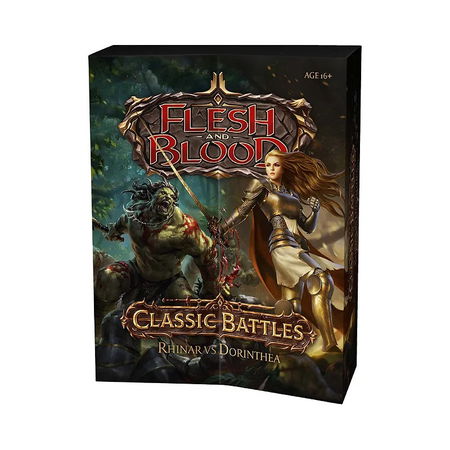 This product is very similar to the Duel Decks or the Arena Starter Kit from Magic: the Gathering, where we have two decks in Blitz format with forty cards, two heroes (specifically from Rhinar and Dorinthea, Quicksilver Prodigy) and their Cold Foil weapons, eight Foil equipment, a how-to guide, and a paper playmat.
Although it looks like a good product for beginners, it has some problems.
The first one is the Warrior heroine. Dorinthea, Quicksilver Prodigy does not have the same effect as Dorinthea and doesn't interact with the Dawnblade - using a weapon of its own. This makes the precon heroine worse than her competitive version (unlike Rhinar, which is the same). Another problem is: The product has exclusive and requested cards like Glistening Steelblade and Blossom of Spring, increasing its price tag.
Due to these factors and, mainly, for the price charged, I don't recommend buying it. It is cheaper and more salvageable to buy two Blitz precons of the hero of your choice than to invest in this product. I advise only buying it for those who want the exclusive or the Cold Foil cards.
Booster Box
Booster Boxes are the main products in the game, as they are the main means of getting cards, but some boxes bring more focus to some heroes than others. Additionally, some of these crates can be used to play Draft and Sealed.
Buying these boxes will always pay off if you want to play these formats or want to build a specific hero pool.
It is also in the boosters that we can obtain the cards in their Foil, Cold Foil and Marvel versions in their respective expansions (a Silken Form in Cold Foil can only be obtained through Uprising, for example). There is no rule on how a booster pack is composed in terms of rarities and quantities, but, in general, it is composed of some common cards, at least two rares (one of which may have a higher rarity) and a foil card.
As the game doesn't have that many expansions yet, we're going to list here the booster boxes that can be acquired and which heroes and classes they support.
Welcome to Rathe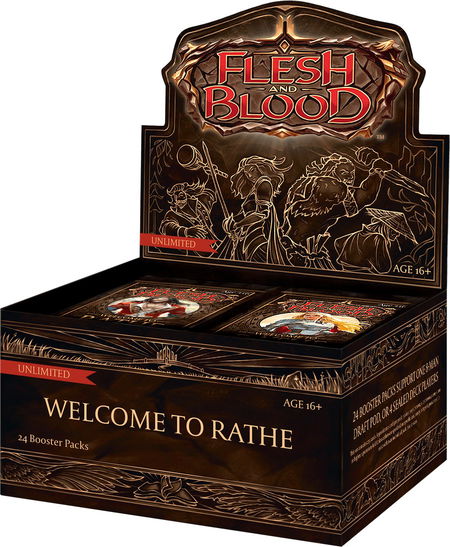 Code: WTR
Status: Out of line
Type: Draftable
New Heroes: Katsu, Dorinthea, Rhinar, Bravo
Classes: Ninja, Brute, Warrior, Guardian
Set Featured Cards: Snatch (1), Enlightened Strike, Tome of Fyendal, Fyendal's Spring Tunic
Arcane Rising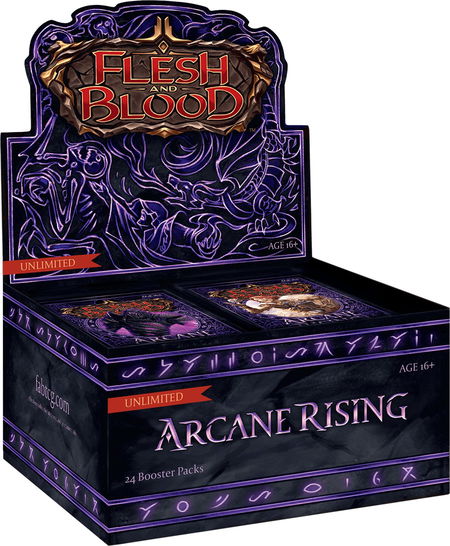 Code: ARC
Type: Draftable
Status: Out of line
New Heroes: Dash, Viserai, Kano, Azalea
Classes: Mechanologist, Runeblade, Wizard, Ranger
Set Featured Cards: Arcanite Skullcap, Command and Conquer, Nullrune Cycle, Art of War
Crucible of War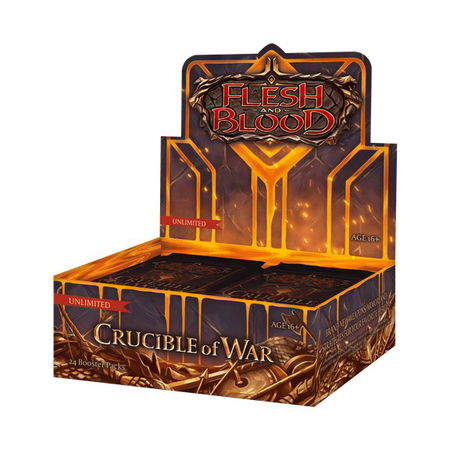 Code: CRU
Type: Expansion
Status: Out of line
New Heroes: Kayo, Berserker Runt, Data Doll MKII, Kassai, Cintari Sellsword, Benji, the Piercing Wind, Shiyana, Diamond Gemini, Kavdaen, Trader of Skins
Classes: All previously existing in the game and the inclusion of Merchant
Set Feature Cards: Fyendal's Spring Tunic, Cash In, Gorganian Tome
Monarch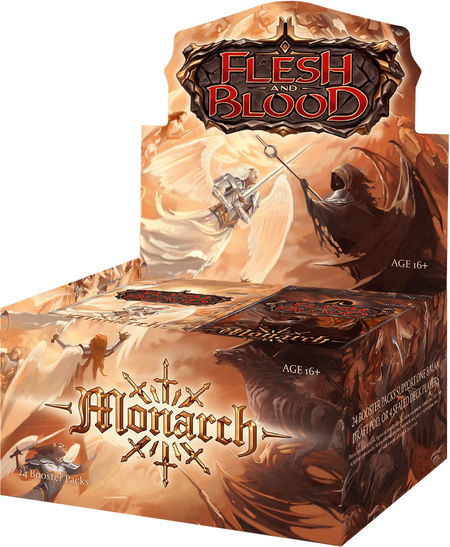 Code: MON
Type: Draftable
Status: Out of line
New Heroes: Prism, Chane, Levia, Boltyn
Classes: Light and Shadow Talents, Illusionist, Warrior, Brute, Runeblade
Set Featured Cards: Nourishing Emptiness, Ironhide Cycle, Rouse the Ancients, Exude Confidence
Tales of Aria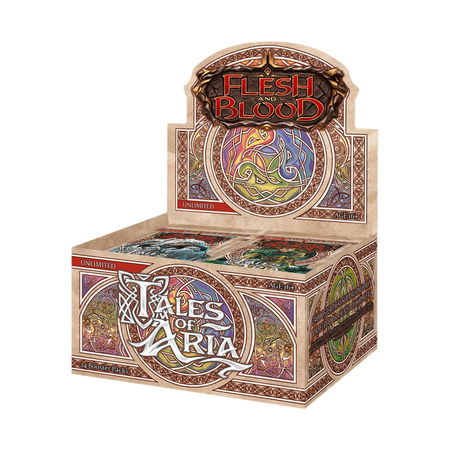 Code: HE
Type: Draftable
Status: Out of line
New Heroes: Oldhim, Lexi, Briar
Classes: Elemental Talents (Earth, Lightning and Ice), Guardian, Runeblade, Ranger
Set Featured Cards: New Horizon, Spellbound Creepers, Rampart of the Ram's Head
Everfest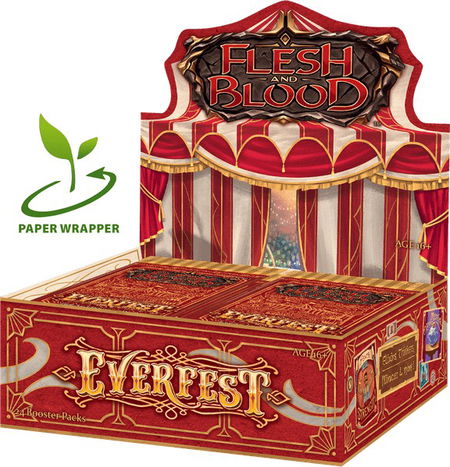 Code: EVE
Type: Expansion
Status: Out of line
New Heroes: Bravo, Star of the Show, Valda Brightaxe, Genis Wotchuneed, Iyslander
Classes: All previously existing in the game
Set Featured Cards: Arcanite Skullcap, Arcane Lantern, This Round's on Me, Even Bigger Than That (1)
History Pack 1
Code: 1HP
Type: Reprint
Status: In production
New Heroes: None
Classes: All previously existing in the game
Set Highlight Cards: Various cards from the first year of Flesh and Blood (WTR, ARC and CRU)
Uprising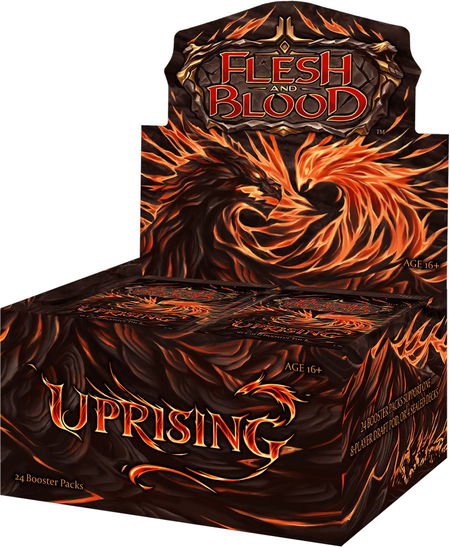 Code: UPS
Type: Draftable
Status: In production
New Heroes: Dromai, Fai, adult version of Iyslander
Classes: Draconic, Elemental and Ice Talents, Illusionist, Ninja, Wizard
Set Highlight Cards: Crown of Providence, Erase Face, That All You Got?, Fyendal's Fighting Spirit (1)
Dynasty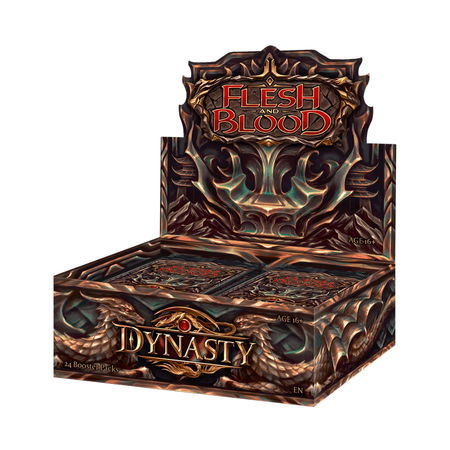 Code: DYN
Type: Expansion
Status: In production
New Heroes: Arakni, Emperor, Dracai of Aesir, Yoji, Royal Protector
Classes: All hitherto existing and the inclusion of the Assassin class
Set Featured Cards: Crown of Dominion, Imperial Warhorn, Ornate Tessen
Outsiders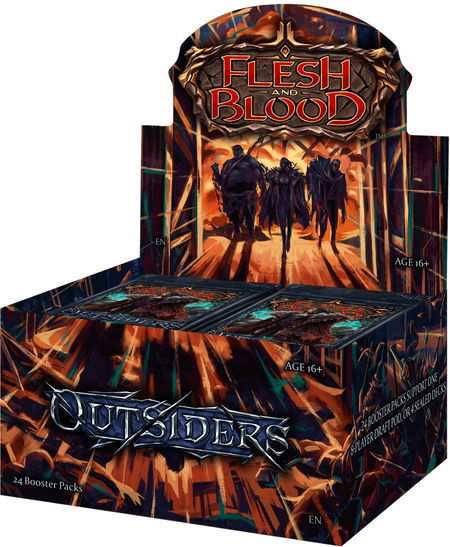 Code: OUT
Type: Draftable
Status: In production
Classes: Assassin, Ranger, Ninja
Set Featured Cards: Wreck Havoc (1), Premeditate, Vambrace of Determination
Conclusion
I hope this article helped you better understand FAB sealed products! Any questions, I'm available in the comments!
Until the next time!